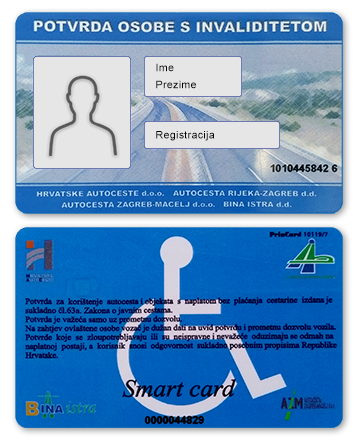 The Public Roads Act (OG 84/2011) exempts from payment of the toll persons whose certified physical damage has caused the inability of lower extremities of 80% or more, Croatian War Invalids with 100% physical damage and legally blind persons with physical damage of sight of 100%. The exemption applies to only one personal vehicle which is in their possession or is used on the basis of a leasing contract.
Requests to obtain a SMART card enabling free passage to disabled persons must be delivered personally or by mail to the address of the Croatian Motorways Maintenance and Tolling: Hrvatske autoceste, održavanje i naplata cestarine d.o.o., Jadranska avenija 6, 10250 Lučko.
For further information on issuing and extending of SMART cards for the disabled please call:
01 6504 812
01 6504 813
or the toll-free phone number 0800 0422.
Working hours of the Croatian Motorways Maintenance and Toll Payment office at Lučko: Monday to Friday from 8 a.m. to 4 p.m.
Find more here.